10
Sep
2007
Details

Category: Tales of the Midwest
Written by Jim Dee
Here's the last of the Patrick Hillman (my old pseudonym) book series. I'm removing a couple of chapters, as I may post the odd link on Facebook and, while I generally don't care who's pissed off at me at any given time, a few of the chapters would give away a few things that formerly were protected only by my pseudonym. So, for the time being, those chapters are reserved for the lucky 2 or 3 people who bought the print edition. The original print edition was also refined a bit text-wise, had a few extra sections, and also some illustrations. I'd like to update this part of the site someday to reflect all that, but that will have to wait for a while. :-)
I'm done, done and I'm onto the next one ...
~Dave Grohl
At long last, I'm ready to unleash "Tales of the Midwest" on the world. It's been done for ages, pending a decent cover design. After considerable envisioning exercises, crude attempts to capture what I wanted on film, fruitless soul searching, creative visualization, strategy sessions, trips to the sweat lodge, ridiculous fantasies involving literary fame and book signings attended by Zooey Deschanel (who, incidentally, falls madly in love with me) ... oh, and binge drinking, I decided to do what any sane individual would -- surf Flickr to see if such a photo already exists.
Almost immediately (like, within 10 minutes), I found U.K. photographer Neil Howard's master shot (which you can view a large size of here ), capturing all of the intensity and spirit I'd been going for in the stories. Neil graciously allowed me to use his photo, with attribution, and with the promise that if I ever turn a profit on the book I'll actually license it properly from him. (Neil's Flickr site.) Here's his original shot, reduced from its glorious high-res to fit my blog:
I love everything about this picture -- the whole "one silhouetted man with a strange hat against a giant raging conflagration" thing (fill in the metaphor yourself, my friends), the smoke, the ominous sanguineglow, the gesture. Not only that, but I immediately realized it was perfecto for a book cover. All it needed was a horizontal flip:
And the addition of the title and author names on the right side, the spine text down the center, and the advance, highly insulting criticism (supplied by many of you) on the left/back:
I sent it off to Lulu last week, incorporating an insult from everyone who submitted one by that time. (I think a few late-insulters got left off -- sorry.) Received my hard copy today and was blown away by the cover.
About Tales of the Midwest
248 pages of the strangest stories from my formative years -- mischief and guns, roaches and demons, backwoods hicks and religious fanaticism. The book describes numerous forms of "giving the finger," people who lose their minds over condiments, various brushes with the law, and bowling alley fights. The writing celebrates pyromania, an 8th grade "Abe Lincoln look-alike" science teacher, a man who collects school buses, my insane uncle who nearly killed a man, and at least one story involving dynamite. And other stuff.
Intended Audience? People who like memoirs, people who live in the Midwest, people who don't live in the Midwest but might like to know a little bit about the horror of that existence, people who like dark humor, atheists and/or other nonreligious folk, people who appreciate a good old fashioned cockroach story. Hell, anybody. If I seriously offend just one of you, I've done my job.
Warning:
Welcome to Tales of the Midwest! For your safety, and the safety of other readers, please listen carefully to these instructions. Please sit facing forward, in an upright position, with your back and shoulders square, and hold on to the book covers, until the text comes to a complete stop. Lap bars and seat belts must be positioned and fastened properly. Please keep hands, arms, and legs occupied at all times. Hats, glasses, and all other loose fitting personal items must be secured. Pregnant women should not read this book. Please be aware that negative g-forces, or weightlessness, occurs during the course of the text. Failure to follow posted safety rules and announcements may result in a serious accident or injury. If you do not understand these instructions, or need clarification, please contact the author. Thank you for reading Tales of the Midwest, and enjoy the rest of your day.
[~Stolen/modified from a roller coaster warning at Cedar Point.]
Tales takes its place among other sort-of important works: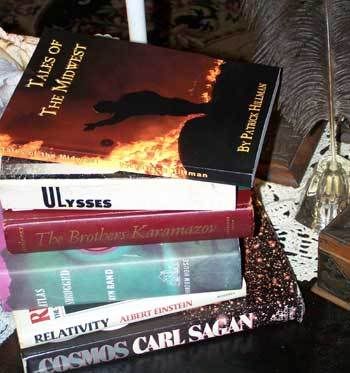 Original Comments
Below, are the original comments on this post. Additional comments may be made via Facebook, below.
On September 10, 2007, Winter wrote:
I shall download tomorrow. I swear it.
On September 11, 2007, Grant Miller wrote:
Congratulations. It will look perfect on my shelf between Ernest Hemingway and my (mostly) unread James Joyce tomes.
On September 11, 2007, Ron wrote:
Congrats! I look forward to putting in the bathroom with my other "poop reads".
On September 12, 2007, deet wrote:
Looks like a man throwing a donut into a pile of burning books.
On September 15, 2007, The Idea Of Progress wrote:
I was going to say exactly what Deet said. Why is that fireman burning a donut with one bite taken out of it?
On November 17, 2007, Anonymous wrote:
Just for the record.
The fireman is throwing a torch onto a fire made of wooden pallets. The torch is made of wax and has a guard on it to stop it dripping on your hand (the "donut"!) The fire was SO hot only a fireman in full gear could get that close to it - Seriously!
It was one of literally thousands the fuelled the fire. from this procession http://www.flickr.com/photos/neilsingapore/1199694889/