09
Jul
2008
Details

Category: Diet
Written by Jim Dee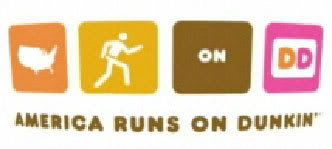 Ever watch videos on Yahoo? They're all sponsored by Dunkin' Donuts (their new logo/branding shown above). "America," it reads, "runs on Dunkin' Donuts." In other words, Dunkin' Donuts are now being sold as a health food (running = healthy). Strangely (and, this may come as a surprise to some), the nutritional info from their web site doesn't seem exactly healthy.
Original Comments
Below, are the original comments on this post. Additional comments may be made via Facebook, below.
On July 10, 2008, M@ wrote:
No, the tagline compares coffee and its active drug caffeine to a type of fuel, which it really is.

America does in fact run on caffeine. No question about it. Look at Jamaica.
On July 10, 2008, Chris wrote:
I get the runs from Taco Bell.