31
Mar
2008
Details

Category: Diet
Written by Jim Dee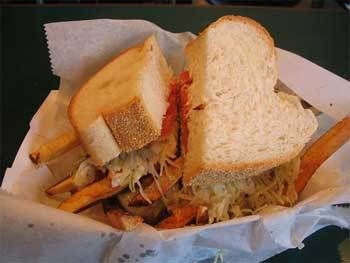 My current 180-pound frame doesn't patronize Primanti Brothers often. However, my former 240-pound self ate there quite a bit. I have to say, for those who either (a) don't care what they look like, or (b) have high-enough metabolisms to not have to care, Primanti Brothers is THE BEST eatery in the city of Pittsburgh.
The first time you put your ass onto one of their barstools, it's a little weird. Actually, it's not even very good. You ask for something simple and the next thing you know, someone's smashing a handful of fries and another handful of cole slaw onto your sandwich. You take a cautious bite and look at your Pittsburgh-native friends with that distinctive "Seriously, you guys like this?" look.
They just look at each other and smile. "Just eat it," they say.
You walk away unimpressed. Maybe even a little grossed out.
Then a few days pass. You start to think maybe it wasn't so bad after all. You decide to try it once more.
This time, maybe you go it alone. When it's placed in front of you, you look around at the table. You think maybe you'll try some of that Trappey's Hot Sauce ... Next thing you know you're half-way into the thing and you're ordering a bowl of chili on the side. When you leave Primanti Brothers on this, your second visit, you're officially a Pittsburgher. It's hopeless at this point. You're going to eat like a half-starved steel worker for the next forseeable period in your life. You'll be heavier and your heart will learn to beat a little harder. The mills long gone, it's as close as you're ever going to get to experiencing another era.
Original Comments
Below, are the original comments on this post. Additional comments may be made via Facebook, below.
On March 31, 2008, Reg wrote:
I want one. Now!
On March 31, 2008, Gifted Typist wrote:
I know what you mean; good, old fashioned, polysaturated-loaded, unreconstructed junk food. I can almost smell the picture.
On March 31, 2008, Chris wrote:
You know how some people fantasize over porn?

I saw the Primanti brothers on a Food Network show last year and have been craving one since then. I had to go exercise to work off the calories just from WATCHING that show.