23
Nov
2007
Details

Category: Music: Musings
Written by Jim Dee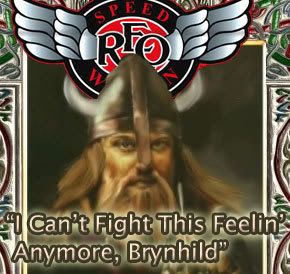 Based on the lyrics to REO Speedwagon's 1984 hit, Can't Fight This Feeling, we can infer with reasonable assurance that the song depicts a viking coming to terms with his emotions. Need proof? Consider the chorus:
I can't fight this feeling anymore.
I've forgotten what I started fightin' for.

Its time to bring this ship into the shore
And throw away the oars forever.
The first hint lies in that second line. Here's a man, a "fighter" (read "seafaring warrior"), who has become disillusioned with his way of life. "Why?" he asks himself after, one assumes, seemingly ages at sea. Was Scandinavia really so bad? I couldn't just deck out the yurt with some affordable proto-Ikean wares? O how I'd kill (quite literally) for a lingonberry ...
But it's the next couplet that truly clinches it. Everyone knows only one kind of "ship" has oars . That's right, viking ones.
Q.E.D.
cc: Kevin "Hrothgar" Cronin,
Mixedmetaphoria, Finlandia
Original Comments
Below, are the original comments on this post. Additional comments may be made via Facebook, below.
On November 24, 2007, Dale wrote:
You had me at lingonberry.
On November 27, 2007, Catherinette Singleton wrote:
Wow, the song sounds so very different to me. I feel I should immediately listen to it to honor the vikings.