25
Sep
2007
Details

Category: Music: Musings
Written by Jim Dee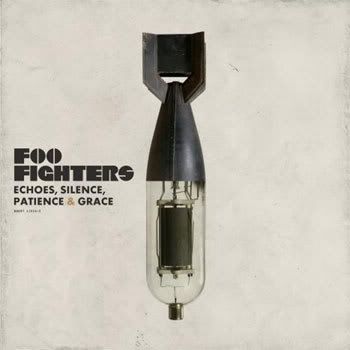 Just FYI- Today is the release day of the Foo Fighters' new album, Echoes, Silence, Patience & Grace. As a professional editor, I'm a little bummed that they didn't incorporate the serial comma after Patience, but I won't let that affect their status as, IMHO, the most hard-rockin' MF-ing band in the history of the known universe. Check out that cover ... a tube from an old-school amp morphed with a bomb -- pointing (no, aimed ) directly downward, ready to launch and/or detonate. How cool is that?! It's like: Be warned -- we're presently going to drop some absolutely incendiary (as Cameron Crowe would surely put it) rock on your ass. And from what I've heard so far ( link to the first single, The Pretender , on YouTube), they've done just that. Pure napalm, mi compadres -- and that's just the way we like it here at BSUWG. God damn, I can't wait to own this CD!
Original Comments
Below, are the original comments on this post. Additional comments may be made via Facebook, below.
On September 25, 2007, Evil Genius wrote:
Foo Fighters do not get enough credit for being the band that they are because of always being in the shadow of Nirvana. But for me Nirvana never lived up to the hype. Foo Fighters are superior in avery way except cultural signifigance. IMHO.
On September 25, 2007, Anonymous wrote:
my friend karen and I are going to see them 10/8 ... .last time we saw them their amp caught on fire!

cc
On September 25, 2007, Grant Miller wrote:
My guess is the tube is made by GE.