25
Jun
2007
Details

Category: Music: Musings
Written by Jim Dee
WYEP, Pittsburgh's local indie station, threw its big summer music festival on Saturday. Like many other larger cities, Pittsburgh has a fine tradition of bringing well-known acts to town for free concerts. In the past few years, I've caught some great free shows ( e.g., Richard Thompson, Cake, etc.). I like the free ones -- not just because they're free, but because you can come and go as you like, you can bring food & drinks, your own chairs / blankets, and no one seems to care if you bring cameras and recording equipment. If it's a big name, I usually bring my portable studio and a decent mic (just for my own enjoyment; I don't post the stuff on the Internet or make bootleg CDs).
Anyway, my wife's a major Sinead O'Connor fan. So, when we heard she was scheduled, we made plans to attend. Oddly, the radio station didn't publicize which bands were playing in which order, so we got there at 4:00 pm, not knowing what to expect. Thought I share just a few pics / comments.
To begin, I was a little disappointed ... You see, the ubiquitous unwashed dude with the clipboard walking around asking people to sign a petition to place a socialist candidate on some ballot ignored me. I always find that a bit ironic -- that someone would walk around asking others to sign on to a plan to replace a free society with one in which individuals have little or no liberty. (Hey, maybe you can get to socialism via petition, but what's the way back if it doesn't work out? Another petition?) Unfortunately, I guess I didn't look alternative enough to approach. Oh well ... we went and found some seats close in and dead center on the lawn ...
First up was John Check. I hadn't heard of him, though I believe he gets some airtime on WYEP. (Couldn't even find a web site for the poor guy!) He's from California, I think he said. Took them a few songs to find their stride, but a decent show. (Sorry, as it was the first one, I can't recall too much about the show.) Here's his pic:
Next up was the Ike Reilly Assassination. Interesting band. His style and voice are a blend of Dylan and Springsteen. He's got a lot of energy, and puts on a good show; has that aire about him of a guy who's been on the road for a long time. Here, he's singing a song called, I think, When Irish Eyes are Burning (see pic, below). He sang many songs about drug abuse, lesbianism, relationships gone bad, and drinking -- so, naturally, I enjoy his set.
Next up was a country singer, Kim Richey. Normally, I don't care for country, but she's really more borderline pop. She seemed like a nice lady, too.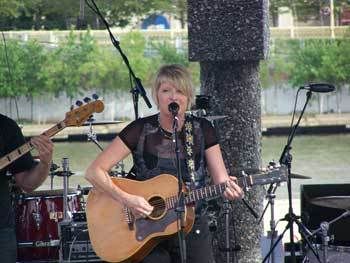 Then came Sinead O'Connor. You know, she was so huge back when I was in college, I'd made the assumption that she was the main draw for this concert. By this time, the small park on the river was jam packed. She did an acoustic set (accompanied by a cello and another acoustic guitar) of mostly newer material, plus a couple of encores. The oldest of her own tunes that she played, during the encore, was "Black Boys on Mopeds." Interestingly, she also sang "I Don't Know How to Love Him" from Jesus Christ Superstar. Getting there at 4:00 really paid off for this 7:30 show, as we were dead center and no more than 30 or so feet back. (I didn't have to zoom in much to take the pic, below.) For someone with such a powerful voice, she's a petite little thing ...
As I said, though, Sinead wasn't the big name on the marquee. Around half-way through her set, I began to take notice of more and more people wearing tie-dyed shirts. An old hippie seated next to me the whole day whipped out a one-hitter and quietly got stoned. Others around us started telling Grateful Dead stories. Still, I didn't really put two and two together yet.
I'd never heard of Moe, the final band of the evening, but they're apparently quite a cult favorite, one assumes with a large, loyal following. Sinead wasn't off the stage 10 minutes before a 15-person-deep group gathered there from one end to the other. A bunch of guys directly next to us, apparently with Moe's band (or possibly just fans bordering on the obsessive -- lovingly referred to, according to the Wiki as Moe-rons ), set up a live-recording rig unmatched by anything I've ever seen up close. It had at least 20 expensive-looking mics on two large towers aimed in all directions. (This really pissed off my aforementioned stoner neighbor who'd shown up, like me, at 4:00 to stake out his absolutely perfect seat. The recording crew became a hub for the Moe-rons, none of whom were sitting, thus completely ruining the perfect vantage point of anyone situated behind them.) One of the Moe-rons asked me where he could score some pot; I didn't know, but pointed him toward the beer vending area.
About four bars into the first number, it all clicked; they're a jam-band a la the Dead, Phish, etc. It was getting dark, so I couldn't snap off any decent pics (the darkness requiring longer exposures). Here's their guitar player, jamming:
We didn't stay for much. My daughter's ears hurt; plus, I figured she was a little young for her first contact high.
Original Comments
Below, are the original comments on this post. Additional comments may be made via Facebook, below.
On June 25, 2007, Joe wrote:
I hear her name, and I cannot help but think of Phil Hartman as Frank Sinatra calling her "Sinbad" and saying, "When I look at you I think, 8-ball, side pocket!"
On June 25, 2007, Reg wrote:
Did she tear up another picture of the Pope or was that just for John Paul II?