24
Mar
2008
Details

Category: Music: Musings
Written by Jim Dee
Dale's post yesterday referenced a particular Sweet tune. Hmmm ... Imagine the young members of Sweet, coming of age as they did at the height of the psychedelic era. Imagine their chem professor gone permanently synesthesic from one dose too many of some self-baked concoction, presenting a classroom with the following pop quiz: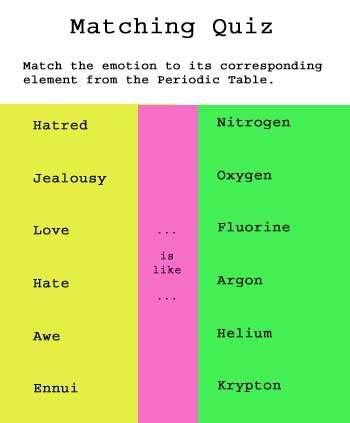 Original Comments
Below, are the original comments on this post. Additional comments may be made via Facebook, below.
On March 24, 2008, Chris wrote:
According to the group, Tuff Darts, love is like a nuclear waste (and you body is a danger to the human race, they should stamp contaminated across your face) so add Uranium 236 to that list;)
On March 25, 2008, Dale wrote:
The only question I ask periodically is Can you take me higher?
On March 25, 2008, BeckEye wrote:
Hey, you have hate AND hatred on that list. See, this is why you never became a glam rock superstar.
On March 25, 2008, Cap'n Ergo Jinglebollocks wrote:
well, we all know love is like oxygen ...