10
Jun
2008
Details

Category: Music: Musings
Written by Jim Dee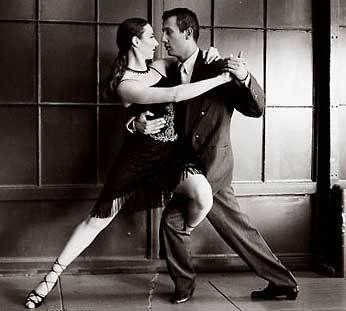 Wouldn't "Tango Tuesday" be a great feature? Shouldn't we ALL tango on Tuesdays, really? Anyway, today I thought I'd mix things up a bit. Instead of posting my usual obnoxious brand of scatalogical humor, I thought I'd post a small treasure I unearthed while cleaning out the dark and mysterious area below my desk at home.
I came across an old piece of sheet music I'd purchased ages ago in an antique store. Looked to be mid-1920s, though there was no date listed. Complicating matters, all of the text is in Spanish. But, I loved the cover photo (which, naturally, I forgot to scan for this post -- sorry). So, I ponied up the 50 cents and bought the piece.
Technically, I'm not sure if it qualifies as a tango, even though it's subtitled, Tango Cancion. If I'm not mistaken, the rhythmic ostinati of a classical "tango" is something on the order of ONE, TWO, THREE, FOUR-AND, ONE, TWO, THREE, FOUR-AND, etc. A habanera, on the other hand, is more ONE (and two) AND THREE (and) FOUR (and), ONE (and two) AND THREE (and) FOUR (and) -- think Bizet's famous Carmen.
In any case, this habanera-styled tune's called "Jurame " (click to go listen to it). In Spanish, that would sound something like HOOR-uh-may. It means (I now know, after Googling) "Promise Me." Since I'm a huge fan of the habanera, I typed it into my notation program for your listening pleasure. (The link above is the resulting midi file.) I even notated the arpeggiated notes as 32nds or 64ths, depending on the situation, and added some pedaling. Came out pretty nice.
After typing it all in, I naturally began to wonder who wrote it. (There's no mention of an author on the sheet!) If you like the piece, here's some slightly edited composer bio info from the web (sorry, I forgot to save the source URL):
Maria Grever (1884-1951) was an early star of Mexican music. Born in Guanajuato, she studied in Europe with Claude Debussy and Franz Lehar (of Merry Widow fame) and eventually found her way to New York. "Jurame" ("Promise Me"), composed in the mid-1920s, was her first real success, though she would go on to compose over 800 other ballads, including "Te quiero dijiste" (another favourite of operatic stars).
800 ballads! Holy habanero peppers, batman. Interesting to note the romantic influence there as well. Makes perfect sense, right? I'll have to scan the sheet music cover picture, as it may be Grever there. The only other pic I could find on the web (pasted below) seems to be from her later years. Enjoy the midi.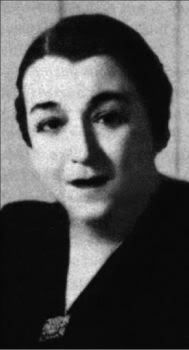 Original Comments
Below, are the original comments on this post. Additional comments may be made via Facebook, below.
On June 10, 2008, Falwless wrote:
Is this post about music?
On June 11, 2008, Gifted Typist wrote:
Purchasing music sheets in an antique store - that could make you into a babe magnet