06
May
2008
Details

Category: Family
Written by Jim Dee
Been away for a while coding the next multi-bajillion-dollar web brand. My mind's pretty preoccupied with that still. But here's an interesting update -- the Hillman "Plan." This should all begin sometime in June and end ... well, whenever we run out of cash or settle somewhere. It's tough to say. But, here's the basic plan (simplified just a skosh):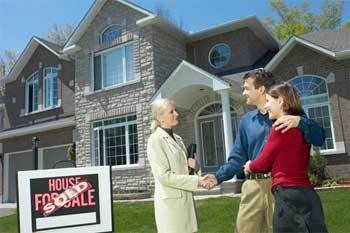 Step 1: Sell the Family Home
(House shown is not the Hillman house. Realtor shown is not the Hillman realtor. Wife shown is not the Hillman wife.) Bought it in 1998 for $96,000. Refinished all 4 levels, top to bottom, floor to ceiling in every room, added a library, added family room, storage areas, added a huge bathroom with jet tub, huge sauna, enormous tiled shower, yoga room, and built-ins everywhere ... Still owe $75K or so, I guess. But, I'm hoping the house is worth upwards of $150k (+/-???) now??? That would give us $75k to screw around with. (It's a down market, I know ... but that sauna really is cool. I think it's going to make it sell quick!)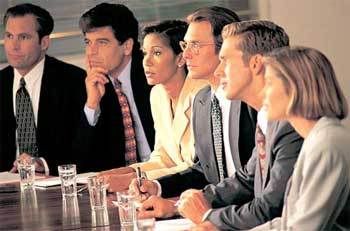 Step 2: Quit My Job
Yes, they'll be shocked, as they've had me golden-handcuffed for way too long. But, hey, maybe they'll retain me on a contract basis. Who knows? (It's happened to me before.) I'll at least offer that much ... I see no reason I couldn't do most of my job remotely, actually.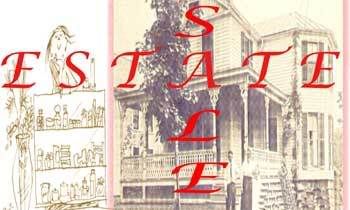 Step 3: Purge
Well, okay, we aren't purging "everything." There are some things we've amassed over the years that are just too cool to part with. That antique bedroom set we got off ebay, for example. Had it shipped over from friggin FRANCE! (Came from some chateau. I should really post pics sometime ... ) Oh, and my piano. God knows it took 8 years to pay off. And my books & crap ... Couldn't part with those. We're going to get one of those PODS things & cram it full of our precious memories ("how they linger"). As my sister will attest, this purging step is going to be painful. (If I even get a dollar for every article of crap in the house, I'll have another $75,000.)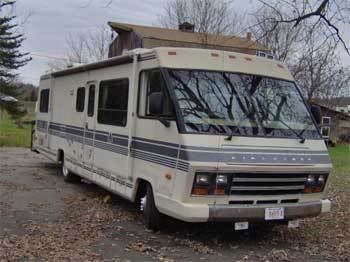 Step 4: Purchase R.V.
I've been looking on eBay. You can get a cheap-o model for $10k or so. Up it to $15k, and you can get a decent one (though you have to wait for a good deal). On the downside, I know absolutely NOTHING about RVs. I do know I want a GAS (not diesel) model, at least 30+ feet long. I wonder if I need a special drivers license?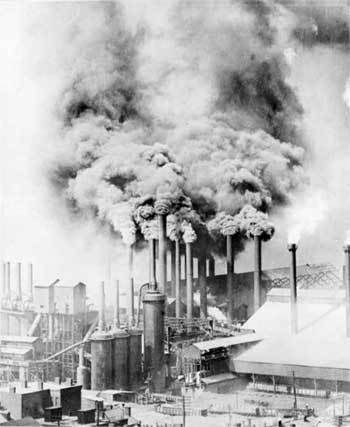 Step 5: Kiss Pittsburgh Goodbye
That's an actual picture of Pittsburgh (well, okay, it's from the heyday of the steel industry). But, you may be surprised to learn that Pittsburgh still ranks #1 in terms of air pollution. Just 5 days ago, it was announced that we've surpassed L.A. as the worst air quality in the nation. I do love the town -- stayed here longer than I've ever stayed anywhere else. Just can't breathe here ... That and it's too cloudy/rainy. I've blathered on about this before ...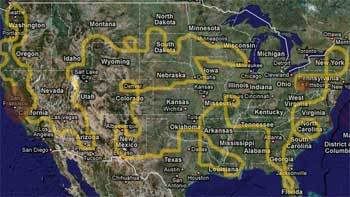 Step 6: Cruise Around the Country, Seeing Sights
Route shown is not the actual route. We haven't exactly planned that part yet. There are a few things I absolutely MUST see, though. Those include Devils Tower in Wyoming, Hearst's "La Cuesta Encantada" in California, and Russell, Kansas (birthplace of Bob Dole). (Kidding on that last one. If you notice my little fake map, above, it does NOT include traveling through Kansas. My sister & I drove across Kansas once together at like 48 mph. It took 6 weeks.) Seriously, though, if you could drive across the USA in a Winnebago, what would appear on your "must see" destination list? I'm curious & if it's something that resonates with my family, maybe we'll go! (Should be some interesting blogging along the way, too!)
Step 7: Arrive at Our Destination, Northern California
More sunshine, cleaner air ... What more could you ask? Sure, the cost of living will be higher. But, there's more money out there, so it all evens out I suppose. We're thinking Sacramento or the Napa area or the San Jose area. Just depends on where I find a job, really.
I'm leaving out about 40 interim steps & details, but that's it in a nutshell.
Original Comments
Below, are the original comments on this post. Additional comments may be made via Facebook, below.
On May 7, 2008, katrocket wrote:
Holy shit this is exciting stuff! Sounds like an awesome plan, Patrick. I actually lived my childhood this way. In 1975, my parents sold everything, bought an RV, and we toured Canada/US for several years, stopping here and there for jobs and schooling. I have great memories from that time in my life.

I also have a thing for French antiques, so show us the bedroom set!
On May 7, 2008, Woodrow wrote:
Shweet.

I want to road trip out in west Texas and hit Big Bend.
On May 7, 2008, Anonymous wrote:
Dad is going to FREAK when you come pulling up to their house in one of those! Think - cousin Eddie in the National Lampoon Vacation movies.

~ Sis
On May 7, 2008, Leonesse wrote:
Yeah, stop in Phoenix first, have a few beers with me, then go through Sedona which is indeed quite beautiful.
On May 9, 2008, Anonymous wrote:
I just read that san jose is one of the best "recession-proofed" cities to live in ... .

cc
On May 9, 2008, Reg wrote:
Two words: Canada. The air is clean, land is cheap, and you American buisness credentials will give you an in almost anywhere. I suggest the KitchenerWaterloo area.