03
Feb
2008
Details

Category: Family
Written by Jim Dee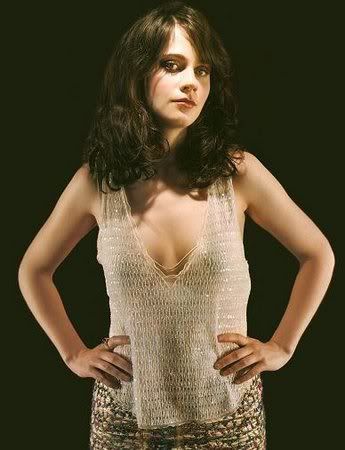 There is no pain, you are receding,
A distant ship's smoke on the horizon,
You are only coming through in waves ...
Your lips move but I cant hear what youre sayin' ...
~ [Come on, you know the source ... ]
It's been a while since I blogged about Zooey Deschanel. But I don't think I've ever blogged about her while loaded (esp. since I drink about three times per year these days). So, tonight's the night, my blogoliscious friends. I think I've been a brave souljah these past 3 days, don't you? I've shunned the ineffective Vicodin in favor of plain ol' Advil, but goddammit this post-surgical condition hurts like a mofo, so I've begun gulping mass quantities of Cabernet sauvignon. Hang on a sec ... there, I just gulped another half-glass.
Q: If you were president, Patrick, what would your first official action be?
A: I'd make every day Zooey Deschanel day!
Who can guess what movie I was referring to above? (Come on ... you can fight it, or you can rock out to it!)
So, my wife's like, "Patrick, you shouldn't be mixing Advil and wine." I'm like, "Look, the Vicodin bottle may say that, but I didn't see any warning like that on the Advil bottle. So, fuck it." Yeah, I'm a rebel like that. Totally crazy, right? I like to live on the edge, I guess. What'll be next for me? I could maybe drink a beer while under the influence of Vitamin C or something. Could be highly deadly, but that's just how I roll, so step a'side 'fore I pop a cap in yo' ass.
Red red wine I'm gonna love you till I die
Love you till I die and that`s no lie
~UB40
Fuck, I gotta roll. Jooge just pissed on the family room carpet (again). (<<<<Drunken sigh.>>>>)
-P.H.
ps Did I mention my lourve fo' Zooey in this post? I meant to do that.
Original Comments
Below, are the original comments on this post. Additional comments may be made via Facebook, below.
On February 4, 2008, constant_drama wrote:
Zooey has a really sexy voice. And she is cute too.

Good taste.
On February 4, 2008, Evil Evil Genius wrote:
That was me without coffee. if you put the word "half" in there(instead of "have",) the joke is almost funny.
On February 4, 2008, Gifted Typist wrote:
Comfortably Numb on Pink Floyd and red red wine.
On February 4, 2008, dennthehunter wrote:
Advil is for girls. HIt the hard stuff, Scotch or some Jack, anything that will light your belly on fire and make you forget your name. At least until tomorrow.
On February 5, 2008, JBanholzer wrote:
Have you considered champipple halved with root beer as a sunny healing tonic?
On February 6, 2008, Leonesse wrote:
Alcoholic painkillers. Works every time.