12
Dec
2007
Details

Category: Family
Written by Jim Dee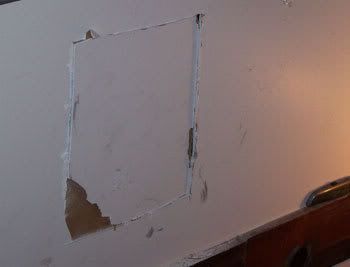 Pictured above is a section of wall in my attic. Notice anything unusual?
First let me tell you about my day ...
One month ago tomorrow, I blogged about how my daughter and I built a cool, pimped-out cat house for some local ferals. Since then, my daughter became concerned that, while we're out of town over Christmas, the wild cats might starve or freeze to death. So, I mentally kicked the problem around for a few days and an ingenious solution came to me.
In our basement, we have an exhaust fan near the boiler (we have radiator heat). That fan vents outside through a panel in a window that sits only a few feet off the ground on the side of our home. The solution was to build a new feral cat house next to that vent. Then, I'd just flip on the exhaust fan and voila !, a heated kitty condo. Sweet, right? So, last weekend, I set it all up -- took three bales of hay and some other materials and rigged up the most luxurious cathouse ever devised by a Pittsburgh marketing executive.
It was a huge hit with Mommy & Broadway. They moved in immediately. They also, however, started hanging out near the front of our home and, wouldn't you know, our "next door old hag" has some kind of absurd senile phobia relating to cats. The old bat confronted my daughter, threatening to call Animal Control, yadda, yadda ... After the harsh exchange between my 70-year-old neighbor and 12-year-old daughter, I received the tearful phone call at work ("she's gonna kill my cats, Daddy").
I know a lot of you use the "c-word" regularly, but I have to say that I honestly don't. I'm not against it, really. (Fuck, I swear all the god-damned time.) But it's just not my style, I guess. Still, there's no more perfect adjective for this woman. She's a mean old fucking cunt and I hate her. My wife says I should be more understanding. Frankly, I think I understand perfectly: My next door neighbor is a cunt. (Maybe that's not what my wife means by being understanding, though.)
So, we (the old bag and I) had a confrontation. I won't bore you with the details. The heated cat house is coming down and being moved to our back yard again, further away from the crusty old bitch who never comes outside anyway.
My cat troubles weren't over yet, though. I made a pit stop at home before a meeting this evening only to find my daughter freaking out once again. Seems our mischievous Ocicat (kind of looks like a little Ocelot) got into the rafters in the attic somehow, climbed up one side of the house and back down the other, only to find himself stuck in a wall cavity behind our entertainment center. They'd been trying to coax him to find his way back for hours. (Wasn't going to happen.)
So, I did the only thing I could think of ... cut a hole in the wall. And there he was ... the little fucker.
Original Comments
Below, are the original comments on this post. Additional comments may be made via Facebook, below.
On December 12, 2007, Beenzzz wrote:
Is there a way that your neighbor could have an accident? She sounds like a total C! You are doing such a good thing for these cats and maybe, the second commentor has a point about getting a license. That way, the old bag of crap has no ground to stand on.
On December 12, 2007, Dale wrote:
You really get catty when provoked!
On December 13, 2007, blueblanket wrote:
Holy Cats!