09
Nov
2007
Details

Category: Family
Written by Jim Dee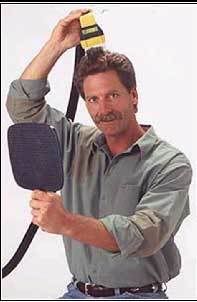 Last night, I decided to purchase something with which I could cut my own hair. Unfortunately, Target doesn't carry the Flowbee, which would've been rockin' cool. Instead, I bought some regular electric hair clippers. I'm going to attempt to cut my own hair from now on. Every time I go to Great Clips, all they do is sort of lawn-mow my head, anyway. If I had any kind of hair style, I suppose I wouldn't mind dropping $20 to have someone cut and style me. But I just don't see the value in it. Don't get me wrong ... I'm not disparaging hair stylists. Layering, coloring, perming, etc. All of those things require training and merit the going rate + a decent tip. But, I'm a guy. I'm good at mowing the lawn. This shit isn't rocket science. Would've been really cool to have a Flowbee, though.
Original Comments
Below, are the original comments on this post. Additional comments may be made via Facebook, below.
On November 9, 2007, Leonesse wrote:
Ebay:
This auction is a nice condition 1992 Flowbee Home Hair Cutting System. Bidding starts at $15.00.

1992 DUDE! You can look like New Kids on da Block with that thing! Sweet!
On November 10, 2007, Dale wrote:
I hope there will be photos of the before and after.
On November 11, 2007, constant_drama wrote:
Cutting your own hair?

This will not end well.
On November 12, 2007, Anonymous wrote:
this is trouble

cc
On January 23, 2010, Daniel wrote:
I have been cutting my hair for years. I have a buzz cut with super short above the ear similar to a military style but a bit longer. My first attempts were a disaster, now I am not satisfied with a pro cut. Short hair only looks good if the hair is cut regularly and that gets expensive and I can't find a detail oriented barber that charges a good price and can compare to my two mirrors,
an electric razor, and 10 minutes. .