21
Oct
2007
Details

Category: Family
Written by Jim Dee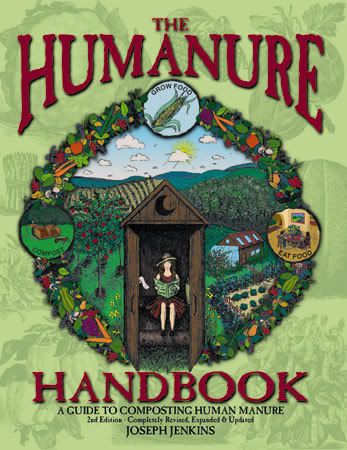 A: No, I'm not shitting you. This is a real book . In fact, I thought I'd share some selected testimonial excerpts (all from this page ). [Side note to Captain Smack: I literally laughed out loud after reading one of these -- marked with an asterisk. *]
"At the moment, I've been saving all my urine, which I add to the woodchip piles and that steams along merrily enough. ... Yours steamingly,"
-- N.S. in UK
"My wife and I found a copy of your Humanure book last year, and have been living well with a sawdust toilet since then. (A blessing, after having spent gobs of time and money putting together a 150 gallon fly-breeding solar toilet - nothing like feeling little crawlies on your bum!)"
-- P.U. in NM
[Ed note: I didn't make that up; it was really signed "P.U."]

"Shit is part of you, goes local tradition. There it is, wasn't there before, dropped out of you. Therefore, it is you. Now with witchcraft being a major player here, all one has to do is pick up some of your shit and do nasty things with it (incantations or who knows what) and voila! you're done for."
-- D.B. in New Guinea
"By the time I got to page 61, I had a mud bucket and a bag of sawdust set up in my bathroom."
-- K.W. in WI
*"For 22 years, I have used scarab beetle larvae . . . they eat my shit in 5 minutes flat."
-- C.M. in SC
"I have taken three dumps since finishing the Humanure Handbook, and all of them have been in plastic buckets and have been covered with sawdust."
-- M.W. in WA
"Taking urine internally has been going on for some time (1000s of years) and by many is considered a wonderful medicine. ... I take my first urine daily."
-- W.E. in OH
"Could be the start of a Big Movement."
-- L.W. in WA
"I've been a pig farmer for decades, had probably literally tons of pig manure dumped on me over the years, have had pig manure get inside open bleeding wounds, have had it 'splash' into my mouth, and I can say that I've never gotten ill from it nor have I had any intestinal problems except when I got my divorce (ulcer). But I can say quite accurately that I've gotten ill a few times from eating in restaurants. I ask you, which is more dangerous, restaurant food or hog manure?"
-- R.T. in WI
"My husband is so FECOPHOBIC, that he swears he neither shits nor farts. Getting him sold on the idea will be a problem. Any suggestions? I, of course, will be the one to empty the bucket."
-- L. in Mexico
"My shit makes sense! at last! Thank you."
-- R.P. (fellow common-senser) in MA
Original Comments
Below, are the original comments on this post. Additional comments may be made via Facebook, below.
On October 22, 2007, blueblanket wrote:
Eeeeeeeeeeeeeeewwwwww!
On October 22, 2007, Grant Miller wrote:
I put most of my humanure on my blog.
On October 22, 2007, BeckEye wrote:
"Yours steamingly" has to be my new sign-off in all of my correspondence.

Or maybe ...

Stewing in my own stench,
BeckEye
On October 22, 2007, Chris wrote:
This was a very nice com"post", Mr. H. It had a really nutty flavor to it.
On October 22, 2007, Prunella Jones wrote:
Looks like great toilet reading. Where can I buy it?
On October 22, 2007, Evil Genius wrote:
The perfect companion piece to my urinal post.
On October 22, 2007, The Idea Of Progress wrote:
Um ... heh ... I think I know the publisher of this.

Really.
On October 24, 2007, Leonesse wrote:
That seems like a steaming pile of bullcrap to me.
On October 24, 2007, Doc wrote:
They voted down "Your Crap and You; A Helpful Guide." and thought that "Humanure" was a much more bankable project.

Doc
On October 30, 2007, hanmee wrote:
Wookiee tries to make all things energy efficient and eco-friendly, but he refuses to agree to a composting toilet in the house. And the last time I shat in a hole in the ground was in 1986 in my grandparents rural house in Korea. No thank you.