04
Sep
2007
Details

Category: Family
Written by Jim Dee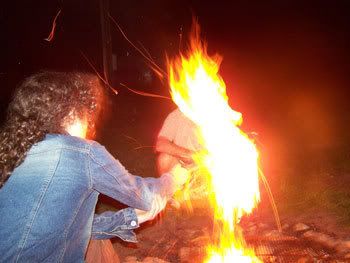 We had a reasonably tame outdoor fire on Saturday night. Here's a picture of my daughter trying some kind of semi-dangerous "torch experiment." I've never been more proud ... The kid likes fire!
Original Comments
Below, are the original comments on this post. Additional comments may be made via Facebook, below.
On September 4, 2007, Dragon Laugh wrote:
Very cool! Fire is pretty. So is smoke. I can stare at incense/cigarette smoke for hours, hypnotized.
On September 4, 2007, Beenzzz wrote:
Like father, like daughter! It must be a proud day for you. :)
On September 4, 2007, Kevin Wolf wrote:
Too cool.