11
Jun
2007
Details

Category: Family
Written by Jim Dee
So, I'd been hanging out listening to these two pirates, "Droolin' Jack" Porter and Captain John Stout, sing Irish ballads. Here's their pic: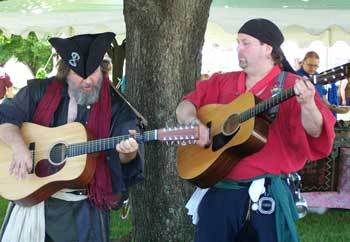 A couple of talented pirates, those two. Maybe it's because I'm half Irish, but I could listen to Irish ballads and drinking songs all day (or until I pass out from the Guinness, whichever comes first). (No Guinness at this faire, though; it's Pennsylvania, home to painfully outdated liquor laws that prevent anyone from having too much fun in public.)
When they finished, I bought their CD and learned that Droolin' Jack was going to do a little magic and "feats of strength"-type performance, so we stuck around. When I heard he planned to break a cinder block over his own head with a sledge hammer, I figured I'd better switch the ol' digital camera to video mode. So, I zoomed in ...
All I can say is ... He tried. I mean, he really gave it the ol' college try, you know? I didn't count, precisely, but I'm fairly sure he hits himself in the head about 80 times in all, using a motherfucking sledge hammer. After 50 or so whacks, he takes a short breather, then goes back to work -- all for the entertainment of a few dozen people. After 75 or so, he really starts to tire and almost hits himself in the face with the heavy hammer. Finally, he concedes defeat.
I don't know if you'll enjoy watching this 2 minute and 47 second video as much as I do. At first, he's kind of just joking around -- asking for Tylenol and what not. But, after 80 whacks, I'm fairly certain the dude's head must've hurt pretty badly. We all have good and bad days in life, I guess. Sometimes we emerge victorious; other times we just bash our own head in repeatedly with a sledge hammer.
Original Comments
Below, are the original comments on this post. Additional comments may be made via Facebook, below.
On June 11, 2007, Evil Genius wrote:
The goggles- they do nothing!
On June 12, 2007, anandamide wrote:
Rumor has it this is how our current president paid his way through college. And look how far he got !!!!
On June 12, 2007, Grant Miller wrote:
Arrrrrrrr!
On June 12, 2007, Winter wrote:
I love the goggles.