10
Jun
2007
Details

Category: Family
Written by Jim Dee
So, my wife, daughter, and I attended a Fairy Festival over the weekend. (This is a different gathering than they attended last year -- the one that featured wonderful protesters ). Usual ren-faire crowd, though -- pirates, gypsies, fairies, etc. It's more or less a subset of a full renaissance faire. "Renfaire-lite," savvy? (Enjoyable stuff, though I miss the axe-throwing, falconry, and "human chess" of the larger faires. But, that'll come later this summer.)
That's a typical fairy attendee, above. My wife thinks I had the hots for this fairy, for some reason. Not true, though ... I just figured I'd take pictures of the more well-costumed ones. So, I'd like to share some more pics AND a video (though probably tomorrow on the vid, as YouTube is acting up a bit).
This fairy smokes (bad fairy!):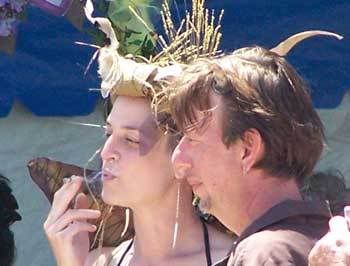 This was, I think, the fairy queen: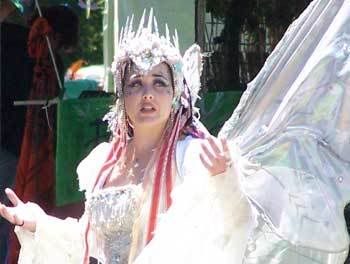 Here's a typical fairy family: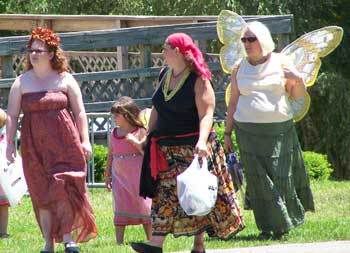 Here's a wizard downing a dog: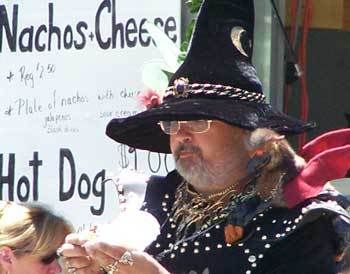 Here's a pirate family: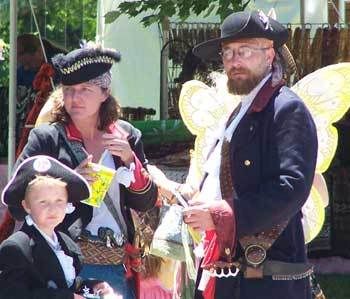 Here's a fairy who talked on a radio: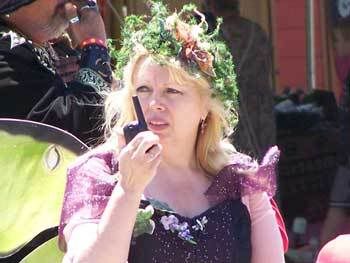 Here's a jester:

Here are a couple of dark fairies: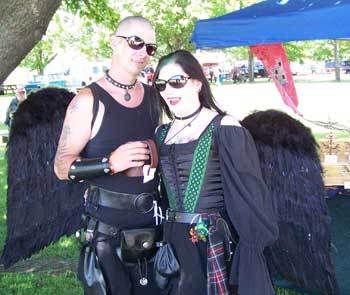 And, through some serious 6-megapixel magic, let's zoom in on those vamp-esque choppers: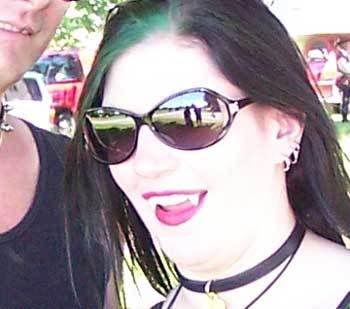 Here are a couple of natural-type fairies: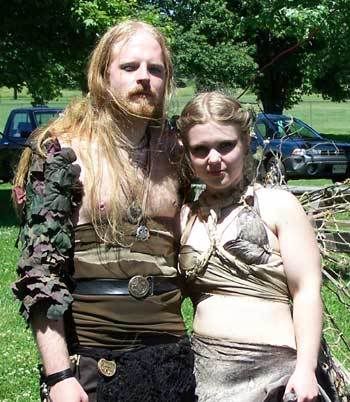 Shall we zoom again? (Yeeeeeouch):

S'more dark fairies: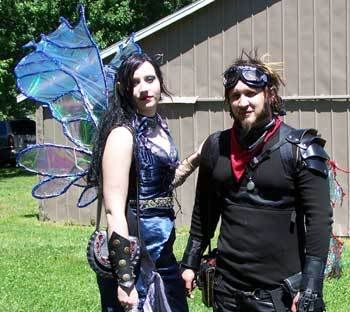 Hell of a costume: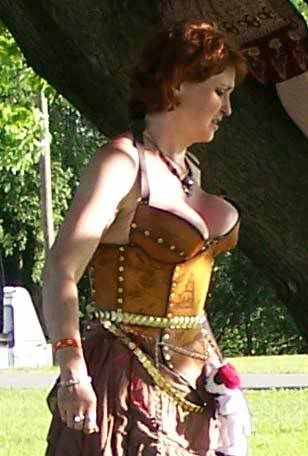 On that last one, my wife pointed her out to me. I said "Damn, her breasts were sunburned!" My wife said something like, "You must've gotten a good close look if you noticed that." (A side note to all women: If you're going to point them out, we're going to take a good close look.)
Two final notes. First, I was very pleased to have been able to catch a performance by a guy named Ernesto Villarreal, accompanied by a woman with a powerful, beautiful voice (didn't catch her name, unfortunately, but her tone was reminiscent of Loreena McKennitt ). Ernesto performs under the name "Djilia Phralengo." It's sort of gypsy guitar fusion -- really unique stuff and insanely great guitar, really world class. I picked up his CD, Oracle (which you can hear samples of here -- check out the title track if you get some extra time!). Watching Ernesto play, I was reminded of the first time I'd ever seen Tuck Andress (one of my favorite guitarists) -- at a similar small venue in the middle of nowhere, not knowing who the guy was, but not being surprised one bit when he went on to great things and much acclaim in the guitar world.
As I said, YouTube's giving me some trouble with the video. I think you'll like it, though, once I get it running. It shows a guy pounding himself in the head with a sledgehammer continuously -- something I think we can all relate to on some level. I'll try to post that tomorrow. Then Wednesday will be a final lesson learned at the Fairy Festival -- looks like I've discovered my "one true gift" in life and, unlike Tiger Woods or Garry Kasparov or Mozart, mine's almost completely useless.
Original Comments
Below, are the original comments on this post. Additional comments may be made via Facebook, below.
On June 11, 2007, anandamide wrote:
The close-up of the hairy pierced nipples was just a little further into fairy-land than I wanted to go. Ouch.
On June 11, 2007, hanmee wrote:
Ditto what he said ... OUCH.
On June 11, 2007, Dragon Laugh wrote:
Ditto, beth. I mean, how can ya not look?
On June 11, 2007, Beenzzz wrote:
Those are some toasted boobs! I bet she regretted wearin that outfit on such a sunny day.
On June 12, 2007, Winter wrote:
That made my boobs hurt.