12
Sep
2008
Details

Category: Family
Written by Jim Dee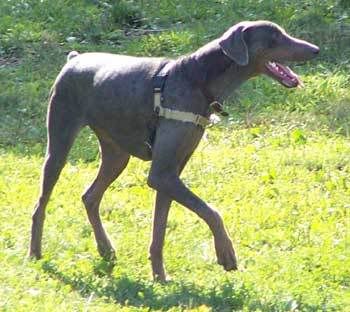 The Jooge and I were out for our daily 3-mile run last night. On the way home (still nearly a mile out), she suddenly jumped off to the right by a yard or so and grabbed something next to the curb. At first, I thought she'd found another sandwich. (Man, does she LOVE running past the Micky D's!) But it wasn't a McGriddle this time; it was a small stuffed teddy bear.
Now, I'll concede that the blogosphere abounds with unfounded anthropomorphisms (with the notable exception of Grant Miller's cat, Bully ). But, damn it, I picked up on two very human emotions that, despite the possibility of any scientific supporting evidence, I fully believe she experienced. The first was a particular mixture of pride, elation, and excitement. I tell you, her reaction actually surpassed any small kid's reaction to the same circumstance; the dog simply beamed.
The second emotion was pure determination. Though we had a mile to go, I could see it in her face; the little bear was coming all the way home with us. It's as though the Jooge reached deep within her canine self to locate that obstinate, so-called "jaw-locking" quality other breeds such as the Pit Bull have made infamous to the point of myth. Normally visibly panting after two miles, she breathed through her nose last night for the entire final mile, head held high, eyes wide with an electrified joyousness.
Once home, she even skipped her usual few minutes at the water bowl. She ran straight upstairs and stashed her treasure. I didn't get a good look at it for a good half hour or so when she finally broke it out to show off a bit. Cute little thing (the bear), and relatively new looking. Must've fallen from one of the many strollers we pass each evening. I was happy for the Jooge, and glad to let her keep it. It seemed important to her to be able to possess a thing completely realized via her own volition -- an item that she spotted and then claimed absolutely independently.
Original Comments
Below, are the original comments on this post. Additional comments may be made via Facebook, below.
On September 12, 2008, Suze wrote:
I wonder if that has anything to do with the baby cub bear missing from the zoo in your area? You might want to check his "find" again.
On September 12, 2008, GETkristiLOVE wrote:
Jooge is so cool, you should get him an undershirt.
On September 13, 2008, Doc wrote:
I know how Jooge feels. Flannery found me the exact same way.

Doc
On September 13, 2008, yllwdaisies wrote:
eeewwww ... . you let her bring that into your HOME?!?!?

Man, if it was a dead bird, would you let her bring that in too?
On September 14, 2008, The Idea Of Progress wrote:
My bear! My bear!