23
Jun
2008
Details

Category: Family
Written by Jim Dee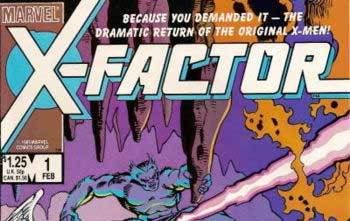 Wow, am I busy! I'm totally overextended these days, prepping my house for sale, decluttering, selling off possessions, etc. Quick question for any comic book aficionados on the blogosphere: Is anything in the following list worth anything? I'm thinking of doing a bulk sale on eBay or CraigsList (e.g., $20 takes all, or some such nonsense), but don't want to just "give away" anything of particular value. So, here are the comic books I found in my basement. Assume VG+ condition on everything.
MARVEL COMICS
X-Factor (1985), #1 (3 copies), 2-8, 10-13, 15-16
The West Coast Avengers (1985), #1-19, 21
The Avengers (1986), #264-272, 274-278
Cloak & Dagger (1985), #1-7
Web of Spider Man (1985), #5,6, 8-14, 17
Elf Quest (1985), #1, 3-5
New Mutants (1986) #38
Nick Fury Shield (1984) #2
The Vision and the Scarlet Witch (1986), #6-9 (from the 12-issue limited series)
Peter Parker the Spectacular Spider Man (1985) #100
Dakota North Investigations (1986), #1-2
The Further Adventures of Indiana Jones (1983) #9, 15, 34
Kazar the Savage (1981) #1,4,5,6,14
The Sword of Solomon Kane (1985) #1-6 (6-issue limited series)
Conan the Barbarian (1985) #174-181, plus a "giant-sized annual #10"
The Gargoyle (1985), #1,2,4 (from a limited series)
DC
Lords of the Ultra Realm (1986) #1
Legionnaires(1985) #3
EPIC
Epic Magazine, Feb. 1986
Timespirits (1984) #2,4,5
Starstruck (1985) #5
OTHER
Modern Comics (1977) Ghostly Haunts #40
As you can tell, I've been away from comics for 20 years, so I'm totally out of the loop. Suppose I could eBay them individually ... but if anyone knows right off the bat that something should be kept from the "$20 takes all eBay list," please let me know! I should add that I've saved out just a few of my faves, most notably one limited series that totally rocked my world back then. It was called Moonshadow, with absolutely breathtaking art by Jon J. Muth. Here's a look at the first cover from the series:
Original Comments
Below, are the original comments on this post. Additional comments may be made via Facebook, below.
On June 24, 2008, Creepy wrote:
I would guess the X-Factor, West Coast Avengers and Cloak & Dagger would be worth selling on eBay. Especially the Cloak & Dagger.