11
Sep
2008
Details

Category: Humor
Written by Jim Dee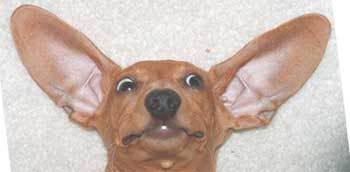 Sometimes, I'll have a little inner-ear itch going on. Ever have that -- when the inside of your ear gets a little tingly and you absolutely need to attend to it? Somehow, my pinky often seems to be the best and safest utensil handy to tackle the job. So, I kind of jam it in there and jiggle it around a bit, though discreetly, until the itch fades. Only takes a second or two ... (And, hey, I'm not some weirdo who does this like 500 times per day or anything. Could be a once/week thing, though. I'm not sure ... And it's also, I believe, fairly sanitary, as I'm borderline obsessive-compulsive when it comes to daily Q-Tipping.)
Anyway, the weird part is that when I take my pinky out of my ear, it often makes a small popping noise. My deep thought of the moment is: Is that popping noise loud enough for others to hear, or do I hear it simply because I'm screwing around directly with my own ear? I suppose I could answer this question by using a tape recorder -- make a few pops and then play it back to see if it registers in the room. But that would be too much work. I'd almost rather just go on with life with that as one of the grand mysteries.
Original Comments
Below, are the original comments on this post. Additional comments may be made via Facebook, below.
On September 11, 2008, Chris wrote:
My father in law itches his inner ear with ... ..wood toothpicks! I keep waiting for one day blood to come shooting out when he does it.