10
Sep
2008
Details

Category: Humor
Written by Jim Dee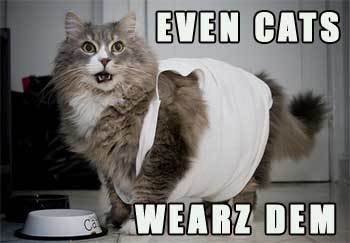 I don't know how many of you read the penguin-loving, politically independent Matt's " Animal Mind " blog -- and, if you don't, please give it a test drive today, as it's the most fun you can have in the present tense -- but I'm stealing one of his concepts today: the "Reader's Write" column. (You don't have that trademarked or anything, right M@?)
It never occurred to me to feature comments as full posts until today, for I have received a most notable response to my essay of "vital importance" posted on Monday. That's right, Tug (who is, if you didn't already know, not just any "undershirt guy" but THE undershirt guy ) has taken notice of my post and has featured it in his ever-growing collection of ruminations on the undershirt:
Patrick, enjoyed your post very much and decided to share it, along with a link back, with my readers at undershirtguy.com .




I provided some additional thoughts on the "keeping you cool factor", tank tops, armpit shields, and tagless shirts that you might find interesting.


Here's a link back to the post on my site: Blog Article - Posts of Vital Importance - Undershirts


Take care, Tug
Honestly, this is one of the coolest emails I've received here at BSUWG -- and, as a writer, it's certainly been a humbling experience. See, just when I thought I'd come up with something original and had taken it to a level no one would ever take it to, here's Tug with an entire blog devoted to that very subject. And what a blog it is! Did you know, for example, that the tank-top variety is aptly referred to as "the wife beater"?
As Tug and many others pointed out earlier this week, I apparently failed to identify one of the primary benefits of undershirts -- the obfuscation of the human nipple. Mea culpa, my friends. But, thanks so much for shining the headlights on such an important topic, as no doubt covered in-depth on Tug's site. I could envision at least one post, if not an entire series, devoted to the subject.
Thanks again, Tug. It really made my day!
-Patrick H.
"Crewneck to th' death."
Original Comments
Below, are the original comments on this post. Additional comments may be made via Facebook, below.
On September 10, 2008, Falwless wrote:
Okay, seriously, were you just reading my effing mind? I was just 15 minutes ago reading that undershirt post and I go look at the comments and some guy named Tug says he added your thoughts to HIS BLOG ABOUT UNDERSHIRTS.

And then I visited HIS BLOG ABOUT UNDERSHIRTS. There were many posts. ABOUT VARIOUS UNDERSHIRT-RELATED ISSUES.

Seriously. That does it.

There is, indeed, a blog about EVERYTHING YOU CAN POSSIBLY THINK OF.
On September 10, 2008, M@ wrote:
You just gave me a great idea for a T-shirt marketable to the youth demographic.

"I do it in the present tense."
On September 11, 2008, BeckEye wrote:
Undershirt Guy. Seeking truth, justice, and breathable cotton. Arch villain: Wife Beater Man.