14
Apr
2008
Details

Category: Humor
Written by Jim Dee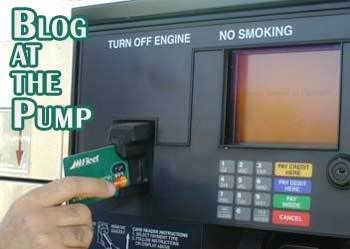 Welcome Blog Surfer! ... Please scan your Giant Eagle Advantage Card.
[ ... waiting ... ]
Your Giant Eagle Advantage Card has been scanned. You can save up to 90 seconds by skipping this part of the post and redeeming your BlogPerks points now. Would you like to redeem them now?
[ ... waiting ... ]
Thank you. Please select a grade of blog post: Regular, Plus, Premium.
[ ... waiting ... ]
You've selected Premium. Please insert payment card now or ignore this sentence to read without paying.
[ ... waiting ... ]
Would you like a car wash with your blog entry? Press yes or no.
[ ... waiting ... ]
Thank you. You may begin reading the next post now.
Original Comments
Below, are the original comments on this post. Additional comments may be made via Facebook, below.
On April 14, 2008, GETkristiLOVE wrote:
Can you blog for me the next time you gas up if I give you my zip code to enter?
On April 14, 2008, BeckEye wrote:
I used to work for the company who did all of Giant Eagle/Get Go maintenance and construction. It sucked ass.
On April 15, 2008, The Lady Who Doesn't Lunch: wrote:
Your blog is out of reciept paper.
On April 15, 2008, yllwdaisies (aka "D") wrote:
The car wash scratched my car!
On April 15, 2008, Leonesse wrote:
And then the blog malfunctions and you have to go the the next blog and start all over again.
On April 15, 2008, Winter wrote:
Hahahaha ... .
On April 16, 2008, Cap'n Ergo Jinglebollocks wrote:
damnit-- it ate my card and charged me $350.99 in service fees!! WTF?!