28
Oct
2007
Details

Category: Humor
Written by Jim Dee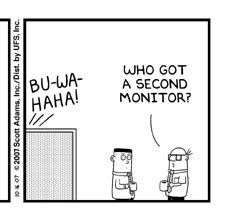 Look, I've done it, you've done it, we've all done it. However, I think maybe it's time we all(*) stop. So, I would like to formally propose a nearly( *) universal moratorium on the use of certain evil laugh words -- specifically: BUWAHAHA, MUWAHAHA, and all similar variants, including those with internal hyphenation. I'll repeat: I've been guilty of this as well from time to time. But no more! Following proper parliamentary procedure, anyone care to second this motion?
(*) Under the proposed moratorium, it would still be okay if cartoonist Scott Adams were to continue the practice. Hence, if the motion is approved, the following instructional graphic would be consulted by all writers (including bloggers and commenters) when necessary:
Original Comments
Below, are the original comments on this post. Additional comments may be made via Facebook, below.
On October 29, 2007, Ben wrote:
This moratorium could put a stop to my plans of world domination: what now will I say when I have conquered humankind?

I would also recommend that you notify Dean Kamen, as any day now fleets of laser-armed "segway"-riding robots will be springing forth from his island hideaway to commence with evil mayhem.
On October 29, 2007, Sturdy Girl wrote:
ok, as long as the use of the term "asshat" is hereby forbidden as well.

What say ye?
On October 29, 2007, yllwdaisies wrote:
Can I add lol to that group of words?
On October 29, 2007, Grant Miller wrote:
Your flow charts are very flowy.
On October 31, 2007, The Idea Of Progress wrote:
I would like to bring an end to the use of the term IMHO, because I always forget what it is, and have to look it up on Urban Dictionary.
On November 2, 2007, Hot Lemon wrote:
but, what do we use instead??