01
Apr
2008
Details

Category: Opinion
Written by Jim Dee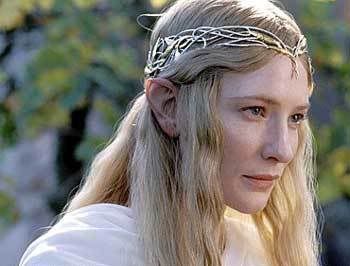 "I don't understand what I'm doing here."
It's okay, Cate. I suppose I summoned you, half-consciously.
"But this is ... Why?"
Call it a whim. I really don't know. I guess I found myself thinking about Queen Elizabeth in a slightly improper way and, next thing you know, you're here.
"But you have me pictured above as Galadriel from Lord of the Rings."
I know ... Funny how the mind works, isn't it?
"Do you intend to keep me here long?"
Now Cate ... Really ... Couldn't you just play along a while?
"I don't believe so. After all, what are your intentions?"
Well, you know ... I don't know. I thought maybe we could hang out a bit. Have a chat. Get to know one another?
"And you do this often? You summon female celebrities to your pathetic little blog?"
Well, not too often, really. Sometimes, I guess ...
"Others you've summoned?"
Aww, let's not go there ... Let's talk about you. ... I read you have a son named Dashiell. That's cool. Is he named after Dashiell Hammett, the writer? I read some Hammett once. Really dug all the boozing and stuff ...
"You're changing the subject. What other actresses have you brought here?"
Well, I don't know ... I think, uh, Liv Tyler may have made an appearance once.
"Liv played Arwen in Lord of the Rings. Do you realize Arwen is the granddaughter of Galadriel? Are you implying I'm two generations older than Liv Tyler?"
Well, jeez Cate ... based on my understanding of elf years, that shouldn't be an issue, right? Hey look ... it says right here on Wikipedia that you were born May 14, 1969. You're like four months younger than me!
"In that case, what does that make you, running after Liv Tyler?"
Well, sure ... she's a bit younger. But Liv's like 31 years old IRL, Cate.
"IRL?"
It means "in real life."
"Indeed. And you, IRL ... Do you honestly believe you'd have any chance of dating me?"
No. But, you know, I really dug watching you dressed in armour, and uh--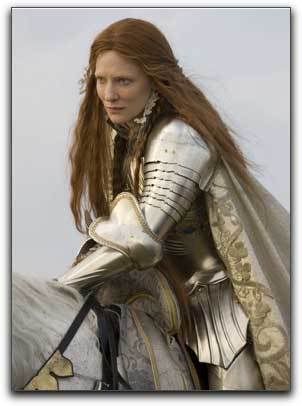 "You did, did you?"
Yeah, it was really working for me!
"So that's your perverted little fetish, eh? And you expect me to indulge that -- even imaginarily?! I'm an Academy Award winner, for Christ's sake."
Well, look, Kate ...
"Kate ?! Did you just call me Kate ?!!! It's spelled with a C, Patrick. As in Cate Blanchett!"
I'm sorry, I'm sorry. I mis-typed. (Jeez.) Look, if you could just quote a few angry lines from the Queen before you go, I could get a lot of mileage from that, you know?
"Huh ... As if."
No, I mean, just get all angry and say, "I, too, can command the wind, sir! I have a hurricane in me that will strip Spain bare when you dare to try me!" Pretty please, Cate???!!!
[Cate storms out of the fantasy, disgusted.]
Aww, rats.
Original Comments
Below, are the original comments on this post. Additional comments may be made via Facebook, below.
On April 1, 2008, Warren Beatty wrote:
Who is this broad? Is she for real?
On April 1, 2008, M@ wrote:
Speaking of fantasy, I like that woman.
On April 1, 2008, Chris wrote:
Quit fantasizing about using those elf ears as handles, Mr. H.
On April 3, 2008, JBanholzer wrote:
Seventeen years ago, the Queen of England paid a visit to our Nation's Capital during a festive weekend.

Part of her tour was slated to take her down to George Washington's historical home at Mount Vernon one evening and The Washington Post even printed a detailed map of her scheduled route.

Knowing that my good friend 3V3T5 lived on the Queen's course, I called that afternoon to remind him that HER MAGESTY would be passing his way.

As the evening wore on, he kind of forgot, but then, while he was fueling up his little Honda, he saw a procession of armored vehicles and remembered what I had told him.

The Queen waved by Crown Gas Station in her ceremonious fashion. 3V3T5 purposely stuffed his hands in his pockets to show intensive intent to rebuff any Elizabethan waves.
On April 5, 2008, Dale wrote:
I watched The Golden Age last night and just before the fire ships hit, I swear she mentioned you.