05
Sep
2007
Details

Category: Opinion
Written by Jim Dee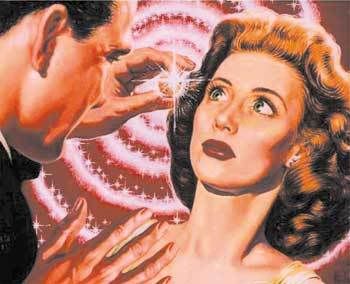 Calm yourself ... take a moment and simply breathe. You are in fact now beginning to relax, feeling more at ease than before ... you may be at work right now, surfing the web while you're supposed to be working ... but that's okay because it feels good to read this blog and you deserve to feel good ... or you may be at home or somewhere else reading this -- in a bright sunlit cafe, perhaps, sipping a warm mug of coffee or tea, enjoying the aromas from the fresh roasted, fresh ground beans, the assorted baked goods, the enormous warm blueberry muffins ... you may have other things to do today, but that's okay because reading this blog makes you feel good ... yes, though your body is feeling more and more relaxed as you read this, your mind is wide awake, your consciousness sharp ... in fact, you're feeling better and better the more you read of BSUWG.blogspot.com... all your cares and worries fade away while you're here ... . see how relaxed you feel now? isn't it wonderful?! keep reading this text and you'll feel better and better, better than you've ever felt, euphoric ... in fact, you're beginning to feel happy ... . that's right, happy ... at first, it's just a small smile coming across your face ... like the memory of a bright sunny day from your childhood, or the remembrance of a dear friend ... and the happy feeling grows as you read every word of this post ... the pleasant feeling washes over your body as though it were warm water or a fluffy comforter straight from the dryer ... you smile fully now, so relaxed ... those cares and worries from before so unimportant now as you simply enjoy this moment's peace ... it's just like being in a sunbeam, isn't it? ... so relaxed, warm, and comfortable ... thanks for joining me here ... our time is nearly up now, but you're not sad ... instead, you know that this happy feeling will stay with you throughout the day and, in the future, if you're feeling sad or anxious, all you need to do is return to this post and experience the bliss once again. When I count to three, you will leave this post, and maybe this blog ... perhaps you will comment, perhaps you won't ... that doesn't matter, anyway ... what matters is that you will finish reading this feeling better than ever, completely refreshed and ready to attend to the rest of your day. One ... two ... three. Have a nice day!
Original Comments
Below, are the original comments on this post. Additional comments may be made via Facebook, below.
On September 5, 2007, yllwdaisies wrote:
snort. huh? what? snort.

Oh, sorry, I musta fell asleep there for a sec. You have a great day too!
On September 5, 2007, Self Hypnosis wrote:
he he, very funy
On September 5, 2007, Chris wrote:
Why did I just wake up holding a rubber chicken in my hand and feeling aroused?
On September 7, 2007, Evil Genius wrote:
I loved it! It was much better than "Cats." I will see it again and again!
On September 9, 2007, Winter wrote:
I seem to cluck like a chicken every time I read your blog now.