02
Aug
2007
Details

Category: Opinion
Written by Jim Dee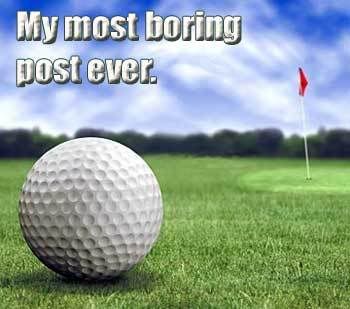 I'm one of those rare guys who thinks that golf is merely "okay." I don't love it or hate it; it's just okay. Three or four times per yeay, I have to golf for work, which is okay. I golfed on my high school team, too. That was okay as well. I'm not great, but I don't particularly suck, either. I guess I'm just okay at it.
Original Comments
Below, are the original comments on this post. Additional comments may be made via Facebook, below.
On August 2, 2007, hanmee wrote:
I am neutral about golf as is my husband.

He only seems to play about once a year and usually b/c someone he is hanging out with loves golf and wants to play.
On August 2, 2007, Evil Genius wrote:
You see, because golf is really slow and jai alai is really fast ...
On August 6, 2007, Winter wrote:
Playing golf is freaking hard. I do like the beer cart they send around though.