30
Jul
2007
Details

Category: Opinion
Written by Jim Dee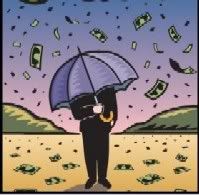 From a Yahoo! news story :
On Wednesday, bills worth 960,000 yen were inexplicably seen "falling" in front of a convenience store.
"We can just say the money came from the skies," a puzzled police official said. "There were other passers-by outside and customers in the store but the incident caused no confusion," he said. "People thought it was too eerie to touch."
What in the hell is wrong with the Japanese? It rains MF-ing cash and they simply ignore it???? Don't they know you're supposed to completely freak out when this happens? You're supposed to run around grabbing every bill you can, stuffing them into your underwear with wreckless abandon; you're supposed to climb onto cars oblivious to any damage you might cause them, knock over old ladies as though you're a line-backer for the Chicago Bears, and generally enter that whole free-for-all state of mind, that rare mass-hysterical zenified state that only ever comes just after World Cup matches, Mardi Gras parades, coups d'A©tat, and good old fashioned urban riots!
(Damn, I hate it when it rains money and I'm not there!)
Original Comments
Below, are the original comments on this post. Additional comments may be made via Facebook, below.
On July 30, 2007, Grant Miller wrote:
If only Sanrio products fell from the sky.
On July 30, 2007, Chris wrote:
They are waiting for it to start raining men ... .hallelujah!
On July 30, 2007, Beenzzz wrote:
Too eerie to touch, like cursed money? Cursed or not, I would have been there grabbing it all and sticking it in a huge pillow case!
On July 31, 2007, Captain Smack wrote:
Abbie Hoffman is rolling over in his grave right now.