26
Jul
2007
Details

Category: Opinion
Written by Jim Dee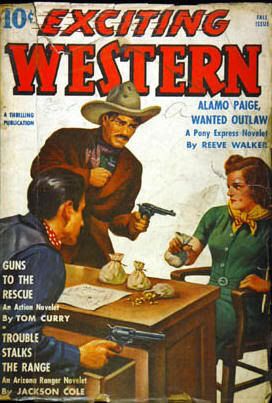 I think a Western novel with a strong dental hygiene motif might be a good, marketable idea. Here's an excerpt:
It wasn't so much the drying up of Fulton and the surrounding prairie counties; it was more what replaced the alcohol that sent so many into philosophical enquiry. Saloons, taverns, and houses of ill repute all turned to the same unexpected source for what they believed to be absolution. Pool and poker tables were universally repurposed, relegated to recreation centers, donated to local diocese. In their stead, medical examination chairs were installed under the light fixtures. Barmaids were fired and sent West as the establishments restaffed with a rush of hygienists from back East.
In walks Chet Samson, toughest-gummed bastard with whom you'd never hope to wrangle. He sidles into the joint, spurs ajangle, says with a vigor of periodontal confidence, "Sal, gimme a long floss." Few locals would dare make eye contact even under the best of circumstances. But, when he adds, "Mint, Unwaxed," a visible shudder spreads across the waiting room.
Original Comments
Below, are the original comments on this post. Additional comments may be made via Facebook, below.
On July 26, 2007, Chris wrote:
I prefer the teledyne WaterPik. It massages the gums, penetrates deep where floss dare not go, and if someone tries to get the jump on you while practicing oral hygiene, you can squirt them in the eyes.
On July 26, 2007, anandamide wrote:
"Life in the town was pretty peacefull ... until the Bubblicious boys rolled into town"
On July 27, 2007, Evil Genius wrote:
Dental hygienists are hot!
On July 27, 2007, Beth wrote:
Mmmmmmmmmmmmmmmmmmmmm. I love a man who talks with the vigor of periodontal confidence ... .
Posted on Medium.com as well, April 2017.