03
Jul
2007
Details

Category: Opinion
Written by Jim Dee
I've never liked country music. It's more than that, actually; I've always actively disliked the genre and most of what it represents -- lazy speech, proud ignorance, steel guitars, big hats, and a fascination with tractor pulls. Although, I do think that old joke is kind of funny:
Q. What do you get when you play country music backwards?
A. You git yer truck back, yer wife back, yer dog back ...
So, it's with a considerable cringe that I begin this fourth installment of "Who's the Dog?" Since I hate this twangy genre so much, I naturally want to include little or no country music lyrics on these hallowed pages. However, I have to reluctantly acknowledge that dogness (i.e. cheating, infidelity, etc.) is a major (if not the major) subject matter explored by this style of music.
The country music tab of About.com (an evil, pop-up laden site that I strongly caution against visiting unless you've got a powerful ad blocker installed) even includes a whole page dedicated to one uber-fan's list of possibles for a "country music cheating songs mix CD." How lovely. Her selections:
Blame It On Your Heart - Patty Loveless
Carolyn - Merle Haggard
Caught - Dale Watson
Have Mercy - The Judds
I May Hate Myself in the Morning - Lee Ann Womack
On Your Way Home - Patty Loveless
You'll Think of Me - Keith Urban
Revenge Of A Middle Aged Woman - Tracy Byrd
Ruby, Don't Take Your Love To Town - Kenny Rogers
She Just Started Likin' Cheatin' Songs - Alan Jackson
The Night the Lights Went Out in Georgia - Reba McEntire
The Thunder Rolls - Garth Brooks
When I Think About Cheating - Gretchen Wilson
Who's Cheatin' Who - Alan Jackson
Your Cheatin' Heart - Hank Williams
I've only ever heard one of those -- the Hank Williams tune -- and would rather fellate a loaded shotgun than ever listen to it on purpose. Ironically, as an atheist, I'm tempted to prostrate myself and thank the unseen deity for my blissful ignorance of the remainder of most of those people and songs. In fact ... If I could ensure that I'd never have to hear another piece of country "music" again in my life, I might actually consider strapping a sandwich board to myself with some old suspenders (as if I had any new ones) and becoming another loony street evangelist.
Each time my car radio accidentally scans past the "Froggy" station, I do in fact question my lack of faith -- for only in a universe in which there IS in fact a God could any soul be exposed to the damnation of hearing one of these painfully awful voices drawl away at full volume over the public airwaves. Seriously, what's Richard Dawkins' answer to that one (the notion that we're living in hell right now, and it's all because of country music)? Maybe Matt Groening has been right all along.
But I digress ... Today I'd like to examine "Before He Cheats" by Carrie Underwood. I accidentally heard it, and was struck by the lyrics. Here's the opening verse:
Right now he's probably slow dancing
with a bleach blond tramp
and she's probably getting frisky ...
Right now, he's probably buying her some
fruity little drink
cause she can't shoot whiskey ...
Right now, he's probably up behind her
with a pool-stick, showing her
how to shoot a combo ...
And he don't know ...
Here we encounter many of the qualities that country audiences routinely equate with "quality" (and, I mean that in the full sense of the word; for example, if you've read any Pirsig, who has written two books on that word. See Metaphysics of Quality for an intro.) There's commentary on sexuality here -- that being a bleach blond is considered indicative of sexual promiscuity; there's commentary on alcoholism as a virtue -- that one's gastric command of straight whiskey (an acquired ability that requires considerable "practice") is to be admired; and there's finally commentary on the interesting socio-economic diversity of billiards -- cue sports having developed hundreds of years ago as a society pastime, famously enjoyed by the likes of Shakespeare, Mozart, Mark Twain, etc., and having since devolved into a commonplace roadhouse attraction at which lascivious males might readily situate themselves "up behind" their quarry under the pretext of demonstrating technique.
So, what do we know of the situation so far? Clearly, our narrator has a vivid imagination. She invents a tramp, pairs her up with the "he" of the lyrics (which we can reasonably assume is her ex-beau), and imagines the scenario of the man's seduction of said imagined tramp. However, the man "don't know":
... that I dug my key into the side
of his pretty little souped up four wheel drive,
carved my name into his leather seats.
I took a Louisville Slugger to both headlights,
slashed a hole in all four tires.
Maybe next time he'll think before he cheats.
Since this is an ex-lover, we can assume that all of the things that currently anger this woman were in fact elements that once attracted her -- the boozing, the pool-playing skills, the man's responsiveness to friskiness. Even his "pretty" off-road vehicle, an adjective snidely offered up no doubt with considerable reluctance. Well, it was pretty, anyway -- prior to its becoming the de rigueur female-issued stigma following such trailer park disgraces. The vehicle, of course, being a measure of a man's true worth.
I think it's important to note that, at least with the current "tramp," she's only imagined. The speaker said that he was "probably" with this imagined woman -- not that he was definitely with her. However, I believe this current tramp is meant as an example of his continued infidelity; that is, we can infer that he's been caught in the recent past. Although, with an imagination like hers, one wonders whether the man ever truly veered (or, hell, if he was ever in fact with the speaker!). But, then again, with a rage like hers, one could just as easily wonder whether she gave the man good reason to seek comfort in the arms of another.
This reminds me, in an odd way, of the time I fired Vlad. I fired him for almost no reason, and he nearly pulled a Columbine on the office in response -- at which point co-workers were both angry with me for causing it and yet impressed with my insight into his darker latent character. So, I can't help feeling a certain affinity for the man here.
I could continue with the final verse, but I think I've thought enough about this to make a judgment. (My internet friend Kevin Wolf suggests that I'm overthinking this stuff, anyway.)
VERDICT: The verdict here is a philosophical question: Is it cheating when your partner is pathological? Since I'm using the term "verdict," I feel we should use other legal terms here as well. One such term is "circumstantial evidence." All we have to go on, it seems, are theories and wild speculations from a woman apparently scorned. Did the man actually cheat, thereby drawing out such behavior from an otherwise polite and gentle woman? We know, for example, that the speaker can "shoot whiskey" and that she's therefore no stranger to the saloon, that she needs no advanced instructions at the pool table. Is it possible she's just an old drunk who couldn't hold the interest of a man, projecting her inner daemons onto an innocent off-road vehicle -- which, lets face it, happens more than we'd all like to admit in this great red-blooded country?. I don't know, folks ... I'm tempted to throw this one out of court. In fact, that's what I'm doing here -- tossing it out. Case dismissed.
Footnote: I don't know how biographical Carrie Underwood's music is. But, just for kicks, here's another famous "Carrie" who got her revenge in the end: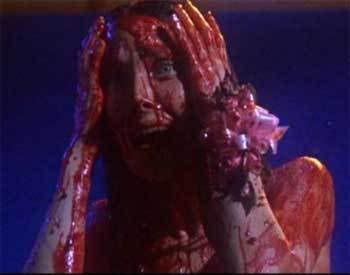 Original Comments
Below, are the original comments on this post. Additional comments may be made via Facebook, below.
On July 3, 2007, Evil Genius wrote:
The existence of country music does make me question my faith.
On July 5, 2007, Chris wrote:
I look forward to your analysis of the deep philosophical issues and disturbing oedipal vein of "Honky Tonk Badonkadonk".

Sheer brilliance, BSUWG!