20
Jun
2007
Details

Category: Opinion
Written by Jim Dee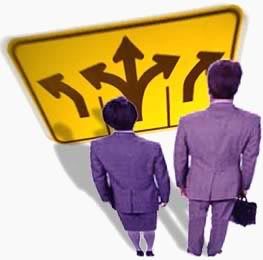 Stopped at a railroad crossing today, I heard a radio advertisement for a credit counseling service. A testimonial came on. "Signing up with XYZ Credit Counseling was the best decision of my life !"
That sounded a little surreal to me. Just imagine that, of all you've ever done, making a phone call to XYZ Credit Counseling was the singular defining moment of your existence.
I began to wonder what others believe to be the best decision of their lives. So, I Googled "best decision of my life" to see what others have reported. Here are the actual top results, in the order they appeared:
1. Joining the SjA¶gren's registry.

2. Chris Tully's being with his wife, Jo; followed closely by their decision to move to Carroll Lutheran Village.
3. Quitting a job 16 years ago (on a whim) and moving to Hawaii.
4. Using a home mortgage as a financial tool to create wealth outside the home, rather than simply as a means to someday maybe pay off a house the way our parents and grandparents once did.

5. Making a very important phone call - to the learndirect advice line.
6. Applying for Bruin Woods.
7. Reading the Bible.
8. Joining a fraternity.
9. Being a Purduette
10. Starting the NutriSystem program.
11. Having cosmetic surgery.
12. Taking a student volunteer trip to Australia.
13. Using Herbalife.
14. Had my large intestine surgically removed.
15. Emigrating to Oz.
They begin to get a little repetitive after that. I know exactly what you're thinking, though -- and I did the same thing ... I immediately looked up suicide rates by country. Most of those people, above, were American. This gave me the sneaking suspicion that, if this was the best we ever amount to, our suicide rate must be relatively high.
I was wrong; turns out we're pretty much average. Interestingly, though, we're fully two times less likely to kill ourselves than residents of 10 other countries (Russia topping the list at a whopping 69.3 suicides per 100,000 people). On the other hand, we're also twice as likely to off ourselves as residents of 30 other countries, including, notably: Albania, Panama, Nicaragua, Iran, Syria, and Egypt.
What this all means, if anything, I'm not sure. Frankly, I'm a little disappointed that more of us aren't electing suicide if the best we can aspire to is Herbalife and having our large intestines removed.
Original Comments
Below, are the original comments on this post. Additional comments may be made via Facebook, below.
On June 20, 2007, Dragon Laugh wrote:
Great post!

I agree; if shallow-minded people would just do the world a favor and fall the nearest cliff, life for the rest of us would be so much nicer ...
On June 20, 2007, Love Monkey wrote:
Ok, that is so fucking sad I wish my oven were a gas one - preferably a nice Wolf brand.

Is that all there is my friend?
On June 21, 2007, hanmee wrote:
I agree with #3. It sounds spectacular.

#11 also interests me, but I would have to lose all the weight before getting the excess skin cut off.
On June 21, 2007, Grant Miller wrote:
More people commit suicide in my county than any other in Illinois. Or at least that was the case a few years ago.