11
Sep
2007
Details

Category: Opinion
Written by Jim Dee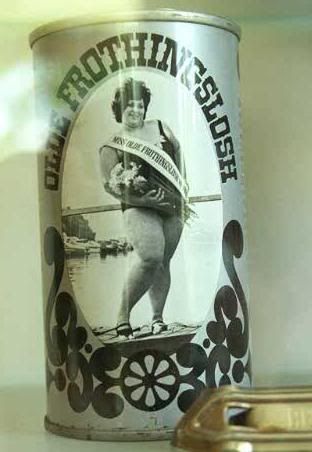 On this somber date of reflection, one could do worse than to ponder the things that once made the U.S.A. the best country in the world. Before we ever thought about "red state" and "blue state" America, things were simpler. It seemed we were all aligned more, were happier, and were able to engage in true bipartisanship from time to time. Aside from our divisive reactions to 9/11, what happened?
IMHO, the answer is simple: Beer can collecting. Someone needs to repopularize that hobby in a big way. Beer can collecting instills all of the values that made this country great. It teaches us to wheel and deal, to care for our possessions, to create and value artistic merit (cast your eyes on that Rubenesque Old Frothingslosh prizewinner), to research markets and always strive for the next acquisition and, above all, to drink more beer and generally hoard useless shit. These are all fundamental skills necessary for a healthy capitalistic society.
It also helps the lumber industry. Remember how your dad built those thin wooden shelves in the basement to hold his collection? (Yeah, he had Old Frothingslosh, and Stag, and those old Falstaff cans. Schlitz, Schmidt's, Robin Hood, and even that super valuable "Billy" beer can.) He built those little shelves with thin wood, of course. And a booming market for thin wood means that lumber companies are able to harvest younger trees, which probably ups corporate profitability, increases resource sustainability, and may even protect our old-growth forests.
So, think this through; it's a win-win all around. (Okay, admittedly, I haven't thought this through very much. But, I think maybe I'm onto something. Bring back the weird beer cans, and our problems may solve themselves!)
Original Comments
Below, are the original comments on this post. Additional comments may be made via Facebook, below.
On September 12, 2007, Ron wrote:
My best friend and I brew our own beer and we have been thinking about starting our own business with it. So just for you, we will can it instead of bottling it. How does that sound?
On September 16, 2007, Justin wrote:
Oh my god, this post is eerily reminiscent of my own childhood.