29
Jul
2008
Details

Category: Poetry
Written by Jim Dee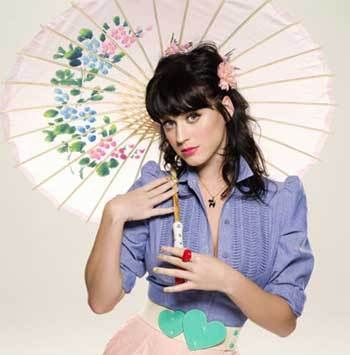 "Hug me, kiss me, suck my juices
Squeezed from goblin fruits for you,
Goblin pulp and goblin dew.
Eat me, drink me, love me;
Laura, make much of me."
~ from Goblin Market by Christina Rossetti
I always found Christina Rossetti's poetry rather ... um ... stimulating. Yes, that's the word. But, she may be nothing compared with the current honorary poet laureate of pop, Katy Perry.
Now, in the interests of full disclosure, I must admit finding it somewhat difficult to poke fun at a woman who clearly bears a significant resemblance to the luscious Zooey Deschanel, on whom your humble writer-friend here has a desperate crush. However, I can't help imagining the chorus of Perry's hit song recast in free verse. See what you Vogons think of this:
Shall I describe how I caressed her?
How I greedily wallowed
in forbidden Sapphic pleasure?
O how her lip balm haunts my tortured soul.
The cherry ... the fleshy, blood-filled drupes
That I suckled wantonly, an
experiment in emotional aversion
gone awry -- for it sated an
inner hunger previously unknown
by me or by my lover, whose reaction
I anticipate, not with apprehension
but with the sweetest apathy of new liberation,
for what I'd previously thought taboo
I now find an irresistible decadence,
a carnal indulgence outside
the realm of spiritual love.
Shall I describe how I caressed her?
How I greedily wallowed
in forbidden Sapphic pleasure?
For those unfamiliar with the source:
Original Comments
Below, are the original comments on this post. Additional comments may be made via Facebook, below.
On July 29, 2008, Chris wrote:
Thank god Vogons are only the SECOND worst poetry in the universe.

So long, and thanks for all the fish.
On July 30, 2008, Cap'n Ergo Jinglebollocks wrote:
With lyrics like that, I now know who inspired the artist to paint "Taste My Wine".
On July 30, 2008, Falwless wrote:
Did it just get hot in here?
On July 31, 2008, Bill Stankus wrote:
Well, that got my attention.
On July 31, 2008, Doc wrote:
After that I need a strong drink and a smoke.

Doc
On July 31, 2008, Grant Miller wrote:
I just downloaded some songs by a duo called She & Him. I knew nothing of the band. Just heard a few songs and they seemd safe and catchy and didn't require much more depth.

Then I read Zooey Deschanel is the singer and I felt bad because I get fidgety when movie stars start bands or vice versa.

But if you want you should check it out if you haven't already.