06
Jun
2008
Details

Category: Politics
Written by Jim Dee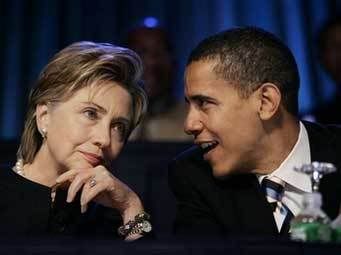 Today, the Associated Press reported that Clinton & Obama met ... . drum roll please ... WITHOUT AIDES!!!!! WOW, that's amazing news! THANKS, AP!!! You guys ROCK!!! By the way, here are some other things they did, ALL COMPLETELY WITHOUT AIDES :
* Barack rose at one point, grabbed a Poland Spring bottled water from the fridge, and returned to the sofa.
* He proceeded to open the bottle (himself!) and pour the contents into a tumbler.
* Hillary then snatched the bottle and walked it to a nearby recycling bin (all by herself!).
* After Hillary's *second* Poland Spring (each one personally retrieved and opened !), it was reported that she excused herself to use the bathroom -- again, sans aides ! When one aide reportedly offered to "help," Hillary said, "No thanks, I got this one."
Original Comments
Below, are the original comments on this post. Additional comments may be made via Facebook, below.
On June 7, 2008, Ben wrote:
Yeah ... I often wonder how it is that people who cannot function without a giant network of other people ever get into power.
On June 10, 2008, yllwdaisies (aka "D") wrote:
This is why I could never be a presidential candidate. I went to a bbq party on Sunday & had to have someone fetch my beers & open them for me.