14
Sep
2008
Details

Category: Politics
Written by Jim Dee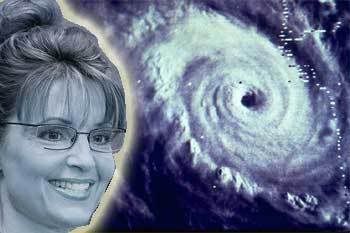 NATIONAL WEATHER SERVICE TPC / NATIONAL DISASTER CENTER MIAMI FL AL092008 1000 AM CDT SAT SEP 13 2008
... DISASTER WATCH ISSUED FOR ENTIRE UNITED STATES ...
... PALIN CONTINUES TO GROW IN SIZE BUT HAS NOT FULLY STRENGTHENED YET ...
AT 10 AM CDT ... 1500 UTC ... A DISASTER WARNING HAS BEEN ISSUED FOR ALL 50 U.S. STATES. DISASTER CONDITIONS COULD REACH THE NATION BY EARLY NOVEMBER. PALIN FORMED AS A SMALLTOWN DISTURBANCE IN THE EXTREME NORTHWEST AND IS CURRENTLY SWEEPING THE NATION. THE DISASTER IS EXPECTED TO MOVE THROUGHOUT THE CONTINENTAL U.S. OVER THE FOLLOWING TWO MONTHS, POSSIBLY SETTLING IN THE WASHINGTON, D.C., METROPOLITAN AREA. PALIN COULD ALMOST CERTAINLY GROW TO A CATEGORY FIVE DISASTER ON THE SAFFIR-SIMPSON SCALE. FUTURE DAMAGES COULD INCLUDE FIRES (ESP. OF UNAPPROVED TEXTS), FULL-ON THEOCRACY, REDUCED RIGHTS FOR WOMEN, LEADERSHIP BY AN UNEDUCATED BACKWOODS HICK, AND CERTAIN WORLD WAR III.
AGAIN, AT THIS TIME, THIS IS ONLY A WATCH. PLEASE STAY TUNED FOR FURTHER ADVISORIES AND PASS THIS ALONG TO FRIENDS AND FAMILY. FOR INFORMATION SPECIFIC TO YOUR AREA PLEASE MONITOR REPORTS ISSUED BY YOUR LOCAL NEWS BUREAUS.
Original Comments
Below, are the original comments on this post. Additional comments may be made via Facebook, below.
On September 14, 2008, Chris wrote:
As a long time follower of the National Hurricane Center (god, I used to check the now defunct GOES 8 satellite images just so I could better predict swells for surfing), I laughed my ass off not only about the content of this post, but your use of their style and fonts. Hilarious!

This SHIPS model predicts further strengthing of this post.
On September 15, 2008, Distributorcap wrote:
are we at hurricane S already?
On September 16, 2008, Bill Stankus wrote:
Are you saying she blows?
On September 16, 2008, themom wrote:
I blog about that woman all the time ... but you have captured the essence of her impact - at the moment. Great, great post.